There is a history that goes way back showing humans have been using cannabis and growing it since long ago. Since a lot of thecountries outlawed cannabis,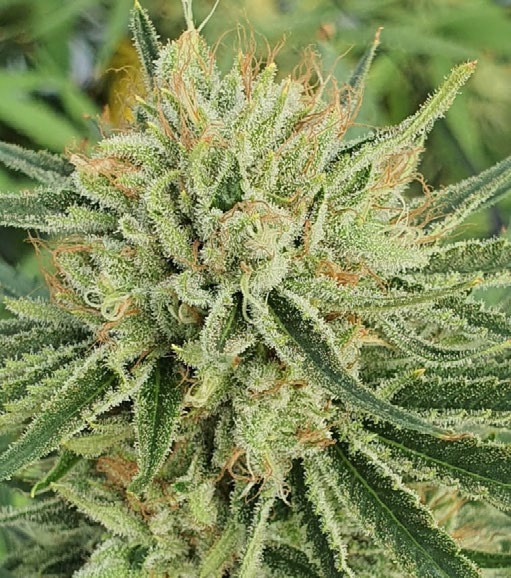 research has stopped back in the 60's.
As a result, scientists and physicians could not study the use of cannabis using modern techniques.
Also, not much research has been done on the cultivation processes. There are many cultivation conditions that are extremely hard to monitor and control, which
affect significantly the growing process.
Making the grass greener: great results using Plantarray technology for Cannabis breeders and growers B.O.L Pharma, one of the first and largest licensed medical
cannabis cultivators in Israel, activates the whole production chain from clinical studies, through production and the distribution to thousands of customers in Israel
and worldwide.
They are constantly looking to adapt new technologies to enhance their growth conditions so they can optimize the Cannabis conditions in their farms.
They have been using the Plantarray technology in their production farm facility for a year now and have successfully succeeded to maximize yield and profits.
The Plantarray patented technology was developed at the Hebrew University of Jerusalem and commercialized by
Plant-DiTech
, Israel.
It serves as a platform for the measurement and analysis of plant bio-feedback and phenotypes. It is fully automated sensor-based technology and conducts research
and simultaneous trials to many key aspects of the whole-plant performance.
Plantarray is used in greenhouses to continuously measure and analyze plant transpiration and physiological key traits activity, such as water and nutrients-useefficiency,
biomass accumulation and environmental effects to determine the growing efficiency conditions. It is being widely used today by the research community and ag-scientists.
Dr. Dvir Taler, Head Agronomist of B.O.L Pharma, states: "our cooperation with Plant-DiTech aimed to test and monitor Cannabis cultivation methods and increase yield
based on the information Plantarray provides, which was comparedwith our current commercial growing methods.
We conducted experiments to analyze effects of different irrigation regimes on the growth and yield of Cannabis plants, and the results were astonishing.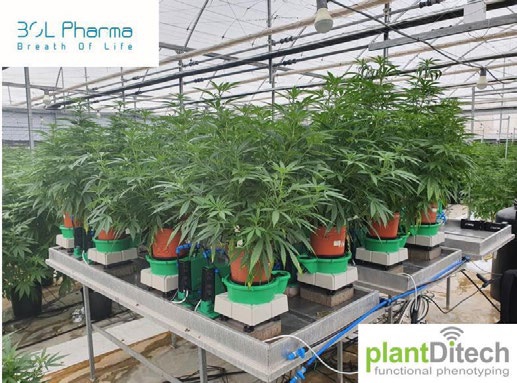 Using Plantarray we learned that so far, the plants did not receive enough water to maximize their growth and production of active ingredients as opposed to previousThis
is the first time we gained knowledge about the amount of water the plants are consuming.
common assumptions that providing slight stress conditions are better for maximizing their active ingredient yields.
We found that providing the irrigation based on the plants' actual water-loss improves the plants' growth and produces greater and better yield." Changing irrigation
regimes on greenhouses might improve yield, but did the data Plantarray provided made an actual impact in bottom line? To this Dr. Taler affirms: "Once we changed
our irrigation regimes based on Plantarray data, flowers dry weight increased by 15 percent rate! While the level of active ingredients THC and CBD was maintained.
This obviously manifests with increased profits. In fact, thanks to the data Plantarray provided, B.O.L pharma's annual profitability was increased by 3 million NIS, which
is close to 1 million US Dollars.
"Planting seeds for success: How can Plantarray change the future of Agricultural Cultivation?
When asked about possible future collaborations with Plant-DiTech to further analyze cultivation methods for Cannabis plants, Dr. Taler seem confident when he states:
"B.O.L Pharma is and will continue to use Plantarray to perfect the cultivation process, as in optimizing fertilization levels and temperature , in order to save fertigation
and electricity resources.
"At the end of the day", Dr. Taler concludes, "it is indispensable to learn about your plant's performance, the return of the investment is fast and with significant impact to the
bottom line already in the short term".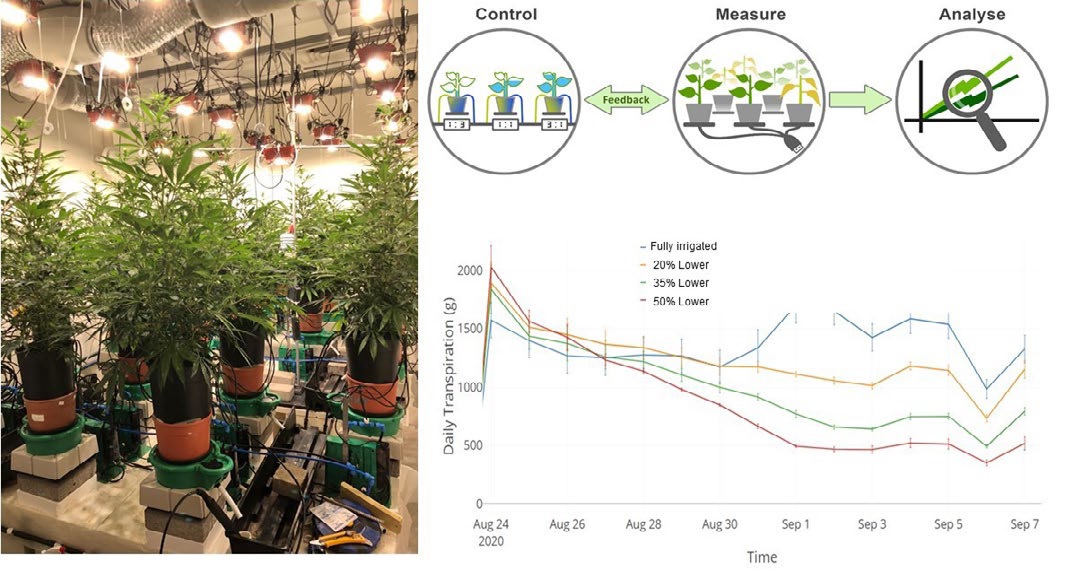 For more information:
Plant-DiTech (Plantarray solution)
Tel. +972 86 999 169 Israel
Contact details:
This email address is being protected from spambots. You need JavaScript enabled to view it.