The Plantarray phenotypic approach is driven by the linear correlation between stomatal conductance and transpiration (water-use, H2O) to plant productivity (CO2 assimilation), which indicates the plant performance in high correlation to yield results.
Objective, Accurate, and Continuous Data Collection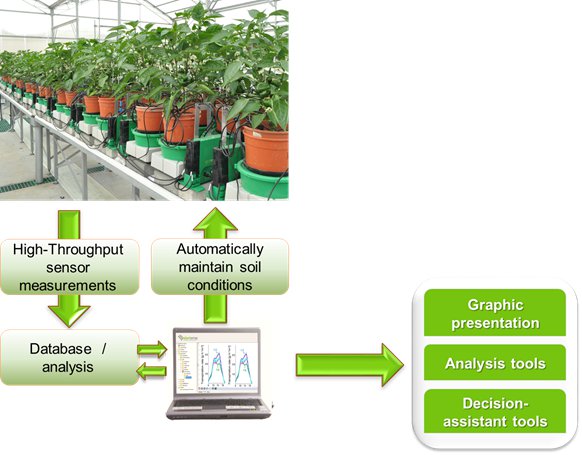 Data is collected simultaneously for all plants in a greenhouse; even if each plant has its own pre-defined treatment. The Plantarray predictive system automatically monitors the water and nutrition program of each plant, ensuring precise comparison between treatments as well as complex scenarios that could not be achieved via manual operation. The system enables the simple application and accurate maintenance of complex experiments by supporting:
The application of several different treatments simultaneously for each plant in the array
Easy change of treatments
The maintenance of soil conditions of each pot including soil-water content, salinity, and tested chemicals or bio-stimulants concentration in the growing media
Plantarray's software includes an analytics interface that converts the data collected by the hardware to quantitative plant physiological traits (QTPs). The user-friendly software is based on interactive screens that present plots of many axes and histograms for the examined variables in a print-ready format. Data extraction for further use and interpretation is also available.